EDI CON CHINA Announces Keynote Talks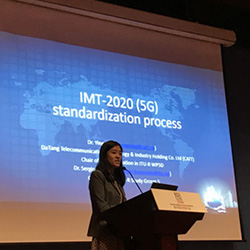 EDI CON China 2020 returns to Beijing, China and the Chinese National Convention Center (CNCC) October 13-14 with an exhibition of industry-leading companies as well as a technical conference that includes two days of technical presentations, workshops, and featured keynote talks. Delegates can also enjoy a welcome reception held on 13 October.
This year's event includes technical sessions and workshops in these topic areas:
5G/Advanced Communications
mmWave Technologies
Front End Design
Low Power RF and IoT
Power Integrity
Radar and Antenna
RF and Microwave Design
Signal Integrity
Simulation and Modeling
Test and Measurement
The event begins with technical sessions and exhibits on Tuesday 13 October. The opening plenary session begins at 10:45, featuring keynote talks from event host sponsor Keysight, event Diamond Sponsor Rohde & Schwarz, and invited speaker, Dr. Chih-Lin I, Chief Scientist, Wireless Technologies, China Mobile Research Institute.
Jifeng Zheng, General Manager of Greater China Marketing, Keysight Technologies will provide a "5G/6G Market and Technologies Overview," and Charles Lo, CEO of R&S Great China (Mainland China, Taiwan, Hong Kong, and Macau), Rohde & Schwarz plans to present, "5G evolution – from standards to reality."
In her featured keynote talk, Dr. I, a renowned wireless expert, will address "Myths and Facts of O-RAN or Whitebox" discussing the benefits of an open and smart ecosystem for 5G networks. O-RAN addresses the whole 5G ecosystem and not just certain applications or just hardware or software. Dr. I will discuss the timeline of O-RAN activities and their effect on test/measurement and device design.
Major sponsors include Host Sponsor Keysight Technologies and Diamond Sponsor Rohde & Schwarz.  Gold sponsors include Xiamen San'an Integrated Circuit Co., Ltd., Sichuan YiFeng Electronic Science & Technology Co., Ltd, UniCompound, Richardson RFPD, and Mini-Circuits.
More information, including an application to exhibit is available at www.ediconchina.com. Register now to attend at https://www.ediconchina.com/register-now/.